Home | Mailing List | Specifications | Care and Feeding | Modifications | Vendors | Literature


EGR Valve
Updated 5/12/2004, UD 02/17/2005, updated 6/07/2007
---
Removal
1. Disconnect vacuum hose from EGR valve.
2. With a crowfoot wrench, completely loosen the top EGR valve-to-exhaust manifold tube nut from EGR valve.
3. Remove two retaining bolts, EGR valve and EGR valve gasket from upper intake manifold.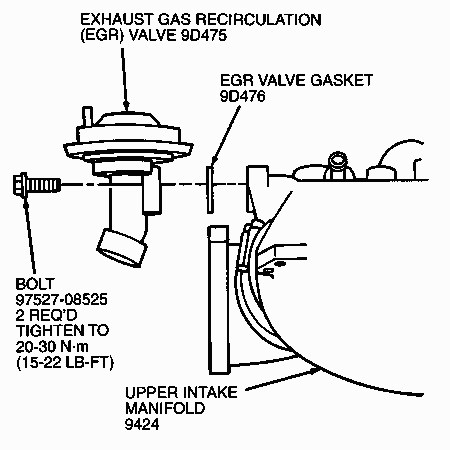 Installation
1. Clean upper intake manifold sealing surface with a plastic-tipped scraper to remove any residual EGR valve gasket material.
2. Position EGR valve to exhaust manifold tube into EGR valve and loosely connect EGR valve-to-exhaust manifold tube nut to EGR valve.
3. Install new EGR valve gasket and bolts retaining EGR valve to intake manifold. Tighten bolts to 20-30 N-m (15-22 lb-ft).
4. Tighten EGR valve-to-exhaust manifold tube nut at EGR valve to 35-65 N-m (26-47 lb-ft).
5. Connect vacuum hose to EGR valve.
____________________________________________________________________
5/12/2004
Car threw a code today (go figure...) I had it read and I was informed that I had a bad EGR Valve. Can someone please shed some light on this? I am not too familiar with the EGR system and I am not too sure what this valve does. How would I go about replacing this valve?
Thanks

Roman Steichen
President CapitalSHO club
____________________________________________________________________


The EGR problems are usually the Differential Pressure Feedback EGR valve (DPFE) on the Gen 3's, this is the sensor attached to the back of the surge tank.

There is a vacuum solenoid that opens and closes, then there is a vacuum regulator that controls the amount of vacuum applied to the EGR valve. The valve itself could be clogged like the older V6 SHOs but not likely.

I like the plate idea......


Paul Nimz
_____________________________________________________________________
02/17/2005
hi everyone,

My green 96 SHO with 117,000 miles on it, just
recently threw a code. I took it to AutoZone and with
a scan tool they found it to be the egr, excessive
flow and insufficient flow AT THE SAME TIME. go
figure??? anyhow, I bought the wells erg from AutoZone
for $50.00 and was about to install it, but I can't
get the erg off of the exhaust tube. I can get the two
bolts off that hold it onto the intake manifold
though. anyhow according to the v8sho website, it says
to use a crowfoot wrench to take it off. can I just
use two REALLY BIG PLIERS and just twist it off????
thanks for listening....

Ken
______________________________________________________________________
Break the big bolt loose before removing the two small ones. Might use some penetrating oil (WD-40, NUT BUSTER or PB Blaster) to soak it first for about 20 minutes and make it easier on yourself.

Carter Fuji
______________________________________________________________________
Thanks carter and fredle for the great suggestions, I
never would've thought of that, I'll give it a try in
a couple of days from now. I'll be stuck at work for
the next few days, so I won't be able to get to it.
but thanks again for your help, really appreciate it.

Ken
______________________________________________________________________
Before you remove the old ERG valve first do this. With the engine
warmed up and idling apply vacuum directly to the ERG valve (your
mouth and a piece of hose is sufficient). If the engine stumbles the
valve is good. More than likely the problem is the DPFE(GR) sensor
and not the valve. If the engine does not stumble then I would take
it off and see if the port going in to the intake is clogged.

The EGR valve itself very seldom fails.

Paul
______________________________________________________________________
thanks Paul for the help, I'll give it a try when I
get out of work...

Ken
____________________________________________________________________________
06/07/2007
Hi...

I am trying to get my 97 SHO to pass emissions inspection, and it keeps failing due to EGR flow problems. I've had the sensor replaced, I've had the EGR itself first cleaned, then replaced, and the Check Engine Light still is on!

Someone mentioned that it could be the vacuum seal?

Anyone have any ideas for me? Thanks.

Amy in Atlanta...

What is the code? Do you experience any run ability issues?

Mike Z

The EGR port into the surgetank often clogs completely shut. I keep a
large screwdriver on my parts washer just for boring out all the
garbage that clogs that port.
If you hold up a surgetank and look into the large opening from the
throttle body, you will see a smaller tube opening in the casting just
inside the opening. This is the inside of the EGR port.
I don't have any pix on my work computer or I'd post one, but it's
pretty common on intakes that haven't been cleaned in 80,000 miles or
more.

Eric Lehmann
97 Ebony 42k Welded - With the Angels Now so that I don't have to be.
Long Live the Garage Queen !
96 Medium Willow Green Metallic 103k Resurrected, Welded
96 Rosemist 72k 2006 Best Of SHO, Popular Vote, Welded
96 Medium Graphite 120k - Resurrected, Welded
97 Pacific Green - Parting this one Out

I had this problem last year and as Eric said you probably have the same problem I had. The attached photo shows what you need to do. The EGR passageway ends inside the opening of the surge tank where the throttle body connects. You can remove a bracket and a couple of bolts, and the throttle body will move out of the way enough so you can get access into this opening to clean the end of the passageway. You have to remove one bolt and 2 nuts to get the bracket to come off. Then you remove the 2 bolts with studs underneath the bracket, and loosen a hose clamp, and then the throttle body will move a little bit towards the radiator. You can get a small tool, maybe a short screwdriver or a drill bit, into the end of the surge tank opening and scrape out some of the carbon blocking the end of the passageway. It builds up there sort of like a little volcano, and restricts gases from going through the passageway. On mine I used a couple of drill bits, maybe 1/4" or 5/16", and turned them with my fingers to "drill" out the carbon. (With the surge tank off it would be a piece of cake.) It only took a few minutes to do the whole thing


Jim
____________________________________________________________________________

Before and after pix of the port inside the tank.



Eric Lehmann
97 Ebony 42k Welded - With the Angels Now so that I don't have to be.
Long Live the Garage Queen !
96 Medium Willow Green Metallic 103k Resurrected, Welded
96 Rosemist 72k 2006 Best Of SHO, Popular Vote, Welded
96 Medium Graphite 120k - Resurrected, Welded
97 Pacific Green - Parting this one Ou
---
Contact Information