Home | Mailing List | Specifications | Care and Feeding | Modifications | Vendors | Literature

Clay Bars and Detailing the GENIII
08/20/2006
---
Ok so most of the oldtiimers, and trolls will know, but maybe some of the newer members have heard but not seen this product.
Background is in order. I was prepping SW9 for the SHOCAGO BBQ last week, and as I was wiping her down I noticed for the first time in memory the paint feeling "gritty" She shined up nicely but the paint just wasn't right. Now I come from the old school of rubbing compound bla bla bla.
For years I've been hearing and seeing results from other who have used clay bar to clean the paint. Well, time to get into the 21st Century. With the help of the King of SHOCAGO Detailing, Jon Martiniccui, we set out to giterdone.
I started the clay bar process Friday evening and got about 2/3's of the car done. I finished up the clay treatment this morning waiting on Jon's arrival in his new Snake. (Sweet ride!)
While I'm not at liberty to divulge his process, detailers are funny that way, I can tell you there were three applications of different materials. The end result? You tell me.



Clay bar - looks harmless enough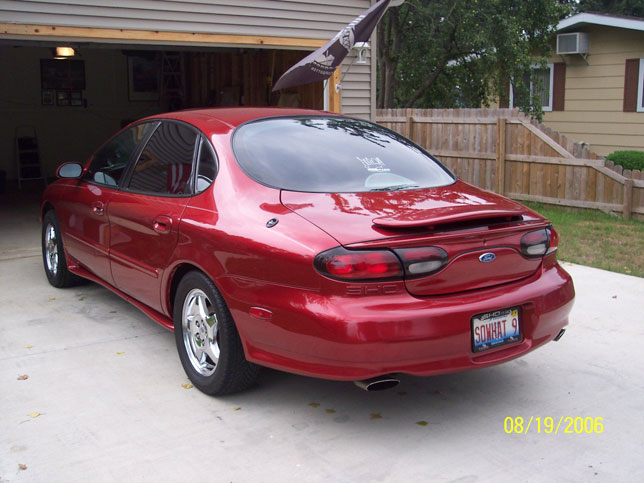 The finish is incredible and the paint to the touch is just as smooth as can be. My thanks to Jon for coming out and teaching an old detail dog new tricks. Now if I can just fix that rear exhaust manifold leak.............
Uncl Lar
Webmaster, www.v8sho.com
Looking good.....
Rick Glass
'99 SF 100k Flowmasters Kirk'd
___________________________________________________________________________
wow now that's how to detail a SHO, nice
|Chris
__________________________________________________________________________
Another added benefit of the clay bar is it actually makes it easier to wax/glaze/polish later on. It's quite amazing how much a simple (and quick!) clay bar treatment can speed up the rest of the detail process.

Now you've just got to lose the "giterdone" comments and you'll really be up to date. ;-)
Dan Carman
'97 PG
Philadelphia, PA

*Love to you too Dan!!*
___________________________________________________________________________

Looking good, Lar!


Dave Garber

What kind of clay bar is this? Brand?
Valentine Salgado

'99 ES 168k_km / welded
___________________________________________________________________________
Thanks Dave. It was a labor of love over two days in the making. It was the Mothers kit that included the clay bar, the detail spray you use with it and a smidge of Mothers Carnuba that is still sitting on the shelf in the garage. You spray the detail while clay barring the car. Then, if you're as lucky as I was, you have a friend who has a detail "cocktail" that will bring out ten year old paint like Jon did. AZ has it for about $19.00 USD

Larry Eck
Webmaster, www.v8sho.com
97 Red
Mods
Really Clean!
Welds
---
Contact Information