Home | Mailing List | Specifications | Care and Feeding | Modifications | Vendors | Literature

Eric's Blown V8SHO
new 5/19/03, updated 5/21/03
---
I put a Blower on a 97 SHO. It took around $3500.00 and 120 hours to do. It is running right now but it needs some tuning as it is running rich and shifting funny. It has, however, laid a ten foot patch of rubber at 60 mph with 3 guys in the car. Seems promising.
I have a 190LPH BBK fuel pump, stock injectors, and 12:1 FMU right now. This beast sounds absolutely EVIL!
Who might be a good choice for tuning? All opinions are valued.
Regards
Eric Lehmann
97 Ebony self welded cams
91 plus SHO-fa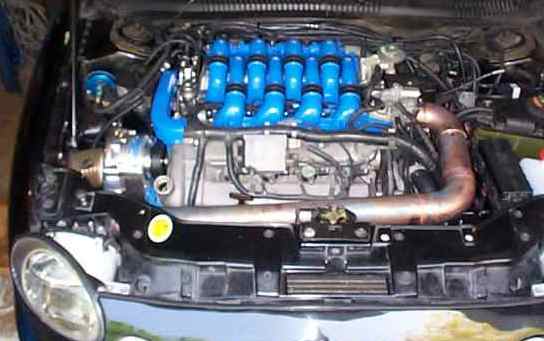 ---
Report I got said it runs like the catapult on a navy aircraft carrier. One good stab at the yamahammer and you can detach a retina. Should be fun, but hard on the rubber budget. Nice, very nice. - Buford
---
Actually I was the second person to drive this beast. I'm the one who got the 10 foot patch at 60 2-3shift with three people in the car. Damn thing is evil. I want one! And it was having fuel problems when I drove it. Can't wait to see it perform when it's tweaked. - Larry Eck
---
Contact Information