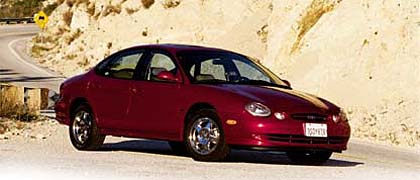 Pre-Owned: 1996-1999 Ford Taurus

Bread-and-butter family transport

Since its introduction in '86, the Ford Taurus has enjoyed healthy sales in the ultra-competitive midsize five-passenger sedan segment. While the "aero" styling was considered mildly radical at its debut, the Taurus quickly became the mainstream benchmark and received a minor redo in '92. Ford took a risk with that original aero look and did so again with a major redesign for '96. Hoping to blunt critics and strike out in a new direction, the third-generation '96 Taurus was bold, unique--and panned for its obsession with ovals. Underneath the new look was a refined version of the prior generation.
Body type: 4-door sedan, 4-door wagon
Drivetrain: Front engine, fwd
Airbags: Front dual
Base curb weight, lb: 3400
Base engine: 3.0L/145-hp OHV V-6
Optional engine: 3.0L/200-hp DOHC V-6
Brakes, f/r: Disc/drum
Price range,: $3815-$8660/
wholesale/retail: $5705-$11,635
(per Kelly Blue Book): $8385-$18,070 (SHO)
Recalls: Transmissions,seatbelts, throttle linkage.
Visit www.nhtsa.dot.gov
NHSTA frontal-impact: 4-star/4-star rating, driver/pass
The '96-'99 Taurus came in four trim levels: G, GL, LX, and topline SE. Available in four-door sedan and four-door wagon configurations, it offered two V-6 engines when first launched. Standard was the venerable 3.0L/145-hp overhead-valve Vulcan V-6, an adequate, durable, though hardly exciting powerplant. Next up was the Duratec DOHC 3.0L/200-hp V-6, which injected a bit of fun into the equation. In late1996, the high-revving, limited-edition SHO (Super High Output, pictured) model entered the lineup with a 235-hp Ford/Yamaha V-8 mated to an automatic transmission, plus a sportier suspension, larger brakes, special ZF steering, and more.
Behind the wheel, the base-engine Taurus is benign and predictable, the consummate rental car. The 200-hp version is a lot punchier around town and offers better highway passing power, so that's our recommendation. The only transmission available is a four-speed automatic. The ovular design theme is carried through into the interior with mixed results, but comfortable seats and a smooth ride serve well for long commutes.
WHAT'S HOT
·Plenty to choose from
·Duratec engine is strong performer
·Good transportation value

WHAT'S NOT
·Lots of recalls
·Fit/finish/materials quality not up to Camry/Accord levels
·Controversial styling

Finding a Taurus to buy isn't a problem, as Ford sold in excess of 300,000 units each year, including rental-fleet sales. What the Taurus offers most is basic transportation value; it's not hard to find well-equipped '99s for less than $10,000. Expect to pay top dollar for a mint SHO, however, as few were built, and many were driven hard. Problems with the '96-'99 Taurus are generally minor and primarily concern secondary components, as well as occasional difficulties with the aforementioned transmissions, but there's no shortage of Technical Service Bulletins. Good service is the key to avoiding a turkey with most any car, and the Taurus is no exception. With the vast numbers out there, shop around and don't settle for anything but a clean, well-maintained example. Finally, don't discount the wagon body style, as it's as roomy as many SUVs, comes with standard four-wheel disc brakes, and is cheaper to buy, run, and insure.