Home | Mailing List | Specifications | Care and Feeding | Modifications | Vendors | Literature

Popular Mechanics
---
Ford Taurus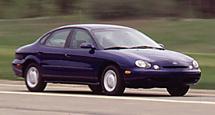 After topping the sales charts for three consecutive years, Taurus has received a total redesign. The '96 sedan is 5-1/2 inches longer than its predecessor, and the unibody boasts greater rigidity. Taurus still carries its signature elliptical theme inside and out, but now it's very exaggerated. Competition in the midsize arena includes the Chevy Lumina, Dodge Intrepid and Honda Accord, among others.

The Taurus lineup consists of two sedan and two wagon models in GL and upscale LX equipment series, plus the high-performance SHO sedan. GL buyers get an improved Vulcan 3.0-liter V6 that produces 145 hp. Engine refinements have reduced noise, vibration and harshness.

LX buyers are treated to an all-new aluminum-block 200-hp 3.0-liter Duratec V6. Both engines are scheduled to go 100,000 miles between tuneups, and are mated to 4-speed electronically controlled automatic transmissions.

The hot SHO version, powered by a new 240-hp 3.4-liter 32-valve V8 with a vibration-quelling counter rotating balance shaft, hooked to a 4-speed automatic.

Inside, Taurus features Ford's Integrated Control Panel for audio and climate controls. Six-passenger models offer a 3-way flip-out device that converts the center front seat to a console-and-armrest setup that seats five. An integrated child safety seat is offered on station wagon models.

Air conditioning is standard across the board, while power door locks and driver's seat and alloy wheels come on LX models. Options for the Taurus include a third seat for wagons and a cellular phone.
PRICE: $19,200 - $28,000
Body Style/Seats:
Sdn/5, 6; Wgn/7, 8
Engine:
GL: 145hp/170ft-lb 3.0-liter ohv V6
LX: 200hp/200ft-lb 3.0-liter dohc V6
SHO: 240hp/225ft-lb 3.4-liter dohc V8
Transmission:
4A
Suspension, f/r:
Sdn: Strut/Strut
Wgn: Strut/Multilink
Wheelbase:
108.5 in
Length/Width/Ht:
Sdn: 197.5/73.0/55.1 in
Wgn: 199.6/73.0/57.6 in
Track, f/r:
Sdn: 61.6/61.4 in
Wgn: 61.6/61.8 in
Brakes, f/r:
Sdn: Disc/Drum, Opt: ABS
Wgn: Disc/Disc, Opt: ABS
SHO: Disc/Disc, ABS
Tires:
205/65R15
SHO: 225/55R16
Min. Curb Weight:
3326 lb
Cargo Capacity:
Sdn: 15.8 cu ft
Wgn Seat Up: 38.4, Seat Down: 81.3 cu ft
Restraints:
Dual Airbags
Fuel Economy, City/Hwy:
20/29 mpg
Basic Warranty, Months/Miles:
36/36,000
---
Contact Information