Home | Mailing List | Specifications | Care and Feeding | Modifications | Vendors | Literature

Power Window Sticking
new 4/19/2004
---
I spent a bit of time this afternoon trying to fix my oil pressure gauge, which has been intermittently working, turns out it was a 6 piece of wire that was bad, so thats fixed, but I noticed something uncool while working on it, for a period of a few minutes, my drivers side front and rear windows stopped working, they wouldnt go up or down, I could hear the driver's window relay clicking when I hit the button, but the window would not move. And just as strangely as it started, the front window started working again, still no back, but it came back a few seconds later. I have no clue what could have caused their temporary failure, should I be worried about this? Or only be concerned if it happens again? And if it does, where would be a good place to start tracing the problem?

Mike

97 ES
________________________________________________________________
There is a TSB for all Taurus Sable models and intermittent windows to clean the crap out of the run channels..

our pathetic IT guy still does not have our SNAP-ON ShopKey system up or i would dig it out

Clare
________________________________________________________________
You mean this one?



Power Windows - Stick/Do Not Operate
Article No.
00-26-3

12/25/00

POWER WINDOWS - POWER WINDOWS MAY NOT OPERATE OR STICK TO WEATHERSTRIP

FORD:
1996-2001 TAURUS

MERCURY:
1996-2001 SABLE

This article is being republished in its entirety to update the model years affected and to update the Service Procedure.

ISSUE
Some vehicles may exhibit a power window that will not operate downward because it's stuck/bound to the weatherstrip header. This may be due to infrequent use and environmental contaminants on the weatherstrip seal.

ACTION
Check window motor operation and lubricate the weatherstrip. Refer to the following Service Procedure for details.

SERVICE PROCEDURE

1.
With engine running, verify the power window operation by holding the power window switch in the down position for approximately 5 seconds. If window operates, proceed to Step 8. If window does not operate, proceed to Step 2.

2.
Remove door trim panel.

3.
Remove window motor from regulator and hook up a Digital Volt-Ohm Meter (DVOM) to measure DC volts at window motor connector.

4.
With engine running, depress window switch (including driver master switch) and verify a minimum of 12V at motor connector. If voltage is OK, proceed to Step 5. If under 12 volts, investigate switch or other source of resistance.

5.
Reconnect electrical connectors and function window motor.

6.
If motor functions, reinstall motor. If motor exhibits lock-up, replace motor.

7.
Pry the weatherstrip seal from the door glass along the header.

8.
Lower the window and clean the weatherstrip glass run with a clean cloth that has been saturated with silicone spray (F5AZ-19553-M).

9.
Reinstall the door trim panel, if previously removed.

10.
Verify smooth and proper operation.





Parts Block

OTHER APPLICABLE ARTICLES: NONE
SUPERSEDES: 98-25-13
WARRANTY STATUS: Eligible Under The Provisions Of Bumper To Bumper Warranty Coverage.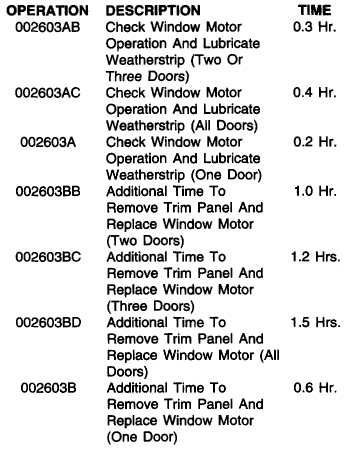 OPERATION/DESCRIPTION/TIME



DEALER CODING

OASIS CODES: 102000, 203000, 205000
Paul L Fisher


________________________________________________________________
---