Home | Mailing List | Specifications | Care and Feeding | Modifications | Vendors | Literature

SHO Stopper - Detroit Free Press
new 10/23/02
---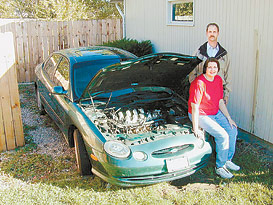 SHAUNA HANSEN/Special to the Free Press


Mary and Ray Hansen's 1996 Taurus SHO is parked next to their Gillette, Wyo., home. The car broke down 16 days after they bought it.

Mary Hansen and her husband, Raymond, of Gillette, Wyo. said they felt like "kids in toyland" driving their 1996 SHO off the used-car lot in June. It died two weeks later. The Hansens are part of an angry and growing group of SHO owners reporting or worried about an engine problem with the SHO, a limited-production, high-performance version of the Taurus. Auto.com story
---
SHO stopper: Engine problem in high-performance Taurus angers fans
October 24, 2002
BY JEFFREY MCCRACKEN
DETROIT FREE PRESS BUSINESS WRITER
Carter Fujibayashi saw his Taurus SHO and it was "love at first sight."
Now, $7,824.84 in repair bills later, he congratulates himself for convincing his boss to buy Subarus and not Fords for their company fleet.
Mary Hansen and her husband, Raymond, of Gillette, Wyo. said they felt like "kids in toyland" driving their 1996 SHO off the used-car lot in June. It died two weeks later heading down the Bighorn mountains in Wyoming and now sits in their yard, the Hansens unwilling and unable to pay the $15,573 repair bill.
They are part of an angry, vocal and growing group of SHO owners reporting or worried about an engine problem with the 1996-99 version of the Taurus SHO, a limited-production, high-performance version of the Taurus family sedan, the third-best selling car in the country. Approximately 19,730 SHOs were made from 1996 to 1999, retailing around $26,000, about $7,000 more than the standard Taurus.
The SHO -- which stands for Super High Output -- differed from the everyday Taurus because it had a pricier interior, stiffer suspension, tighter handling and a powerful 3.4-liter V8 Yamaha engine that could zip up to 140 m.p.h.
Ironically, the SHO's apparent downfall is the engine. The valves that open and close to let gas and air into the cylinders are moved by what's known as a camshaft, and the camshaft is turned by a sprocket that is supposed to be permanently and firmly attached. But in the case of the SHO engine, it can slip, allowing the valves to stop moving. Unfortunately, the engine's pistons are continuing to churn, so the pistons and valves collide. At a minimum, a piston or valve snaps. If the car is going at a high rate of speed, like 60 m.p.h., the whole engine block can be ruined.
Although the problem typically arises at around 65,000 miles, the sprocket has slipped as early as 40,000 miles -- still beyond the engine's standard 36,000-mile warranty.
In a statement, Ford says that it is aware of the problem, but that "only a small number of engines are potentially affected." Spokesman Todd Nissen added that Ford "regretted some customers are unhappy with the situation."
In the past year, roughly 200 former and current SHO owners have launched and contributed to a Web site called www.V8SHO.com devoted to detailing the engine problem. In May, a Ford employee sent copies of documented failures or complaints from 190 SHO owners to Ford customer service, Ford engineering and Chairman and CEO William Clay Ford Jr.
Many of the disgruntled are former or current members of the Illinois-based Taurus SHO fan club and just a year ago were meeting at conventions to praise Ford and the SHO. Today, many have signed a pledge "not to purchase any product of theirs (Ford's), be it car or truck."
"When we bought this car, I thought we had a steal," said Hansen, a stay-at-home mother of two. "Now, I'd never buy another Ford. I really, really feel milked."
Passionate customers
Concerns about quality have been a running problem at Ford, whose slip in last year's J.D. Power & Associates quality ratings seemed to coincide with the Firestone tire debacle and the automaker's overall fall from grace.
In the grand scheme of things, the SHO engine isn't a huge problem.
But it's a problem that affects what used to be some of Ford's most passionate and committed customers.
"I've told a lot of people I know within Ford to do something about the SHO, like extend the warranty or something. They are at risk here of alienating a lot of people who really want to like them," said Warren Johnson, a Ford dealership service technician for 17 years in Lakeville, Minn. "They lose these enthusiasts, they lose them forever."
Ford declined to discuss the problems with the SHO, opting to release the following statement: "We are aware of the concern on a small number of SHO engines, and our investigation indicates the condition is not widespread. Many vehicle repairs were covered under warranty, and we have been working with our supplier (Yamaha) to reduce the repair costs for the small number of engines potentially affected by the condition."
The cost for repairs, according to the Web site, copies of receipts reviewed and more than 10 SHO owners interviewed by the Free Press, ranges from $2,000 to $20,000. Most spend about $5,000, not to mention the weeks or months they are without their car. Many others have spent $500 to weld the sprocket to the cam.
Don Mallinson, the Peoria, Ill.-based head of the 1,000-member SHOClub, says Ford has a public relations problem because it is alienating former fans of the company, not to mention passionate car nuts. Mallinson spent $500 this summer to have his sprocket welded to the camshaft. "It's really too bad because I thought the SHO was the closest thing we've had to an American-made BMW," said Mallinson, who runs a small mail-order business. "I'm very disappointed in Ford. They know there's a problem and have known for two years. I've tried their customer service line. Hundreds of us have. They tell us, basically, to go away."
Mallinson, editor of a SHO magazine, says when people call him to ask if they should buy a SHO he tells them "to set aside $500 or more to weld their sprocket. I don't sugarcoat it. It will happen if they don't get it fixed."
To date, there has been no recall on the engine and with only eight Taurus SHO engine complaints filed with the National Highway Traffic Safety Administration, it's unlikely there will be.
Warning signs
A light ticking sound. Or maybe a tapping sound.
That, say the angry SHO owners, is the first indication something is wrong. Sometimes the ticking or tapping will come and go for a few weeks before they experience a problem. On other occasions, they hear the sound for the first time and minutes later are on the side of the road with a dead car.
Fujibayashi of Greenwood, Ark., heard the ticking sound from his 1997 SHO for weeks, but two mechanics looked at it and gave conflicting advice about his car, which had about 94,000 miles on it. Then, on a Sunday night in October 2001, he was going about 65 m.p.h. down a hill on I-540, south of Fayetteville, Ark., and he heard the ticking again.
"I heard it and then my service engine light went on. The engine started missing and lurching. I took the cruise control off and hit the gas, but got nothing. It lost speed as I went downhill. Then it went pfffft and it was done," said Fujibayashi, who makes commercials for a cable TV company.
It took him two months and nearly $8,000 to get his SHO repaired. Like many other owners, he called Ford's toll-free customer-service line. Like many of those owners, he was told the car was past its 36,000-mile warranty, there had been no recall and this wasn't a common complaint.
Barry Broening, a Grand Rapids environmental consultant whose 1996 SHO failed in July at 67,909 miles, said, "I called six times before they finally put me through to a manager. She said they'd never heard of this problem. I figured it was a one-time thing, until I went out on the Web and saw all the complaints."
Like many other angry SHO owners, his previous cars had frequently been from Ford. In his case a Topaz.
"I honestly thought they'd do something to help me. After all, they've had so many SHO complaints," he said. "You'd think with all their problems, they would work on their customer service."
The Free Press called Ford's customer service line in early October about the SHO and was told much the same thing, with a Ford representative saying "there's nothing we can do."
Joe Young, a 27-year drivetrain specialist with Ford dealerships, currently working at Ford of Upland in Upland, Calif., said, "I think it might be an inherent flaw in the engine design. Ford needs to understand these people are passionate, enthusiastic car people. The kind of people who'd rather let you take their family than their car. Can Ford afford to ignore all these people and create more of a nightmare for itself?"
Ford's statement acknowledges the automaker is aware of the complaint now. It was probably aware of the problem much earlier. The Free Press has obtained a special service message given to Ford dealerships from Ford, telling dealers that if someone complains of a ticking noise on the 1996-1999 SHO the mechanic should "verify that the secondary chain sprockets do not move independently while holding the camshaft stationary."
Word has spread about sprocket problems with the engine, which was manufactured in Japan by Yamaha and installed in the Taurus SHO at Ford's Atlanta assembly plant.
Yamaha also built a V6 engine for earlier versions of the SHO. But while that engine is called bullet-proof by enthusiasts, the V8 version is getting a bad reputation.
"This V8 engine problem is one of the things that's talked about when people bring up the SHO. SHO buyers tend to be a very discriminating bunch so they don't have much patience with this, not that you can blame them," said Charlie Vogelheim, executive editor of the Kelley Blue Book, a used-car pricing guide.
"The residual value of the SHO hasn't held up too well. Part of that is desirability and the fact that there aren't many automatics available. But another real problem is this engine and that a lot of Ford engines seem to break down after 60,000 miles," he said.
The angry SHO owners admit they are looking around for an attorney, hoping they can file some sort of class action.
At the same time, many still revere their SHO and Ford, sounding more like disappointed parents than disgruntled consumers.
"I love this car, just love it and desperately want to believe that Ford as an American carmaker would be honest with us. We're like kids who want to believe their parents have only ever loved each other," said Timothy Wright, a 1997 SHO owner who runs the SHO Web site from his home in Decatur, Ill. Wright spent about $600 to have his sprocket welded.
"Ford needs to admit there's a problem and be fair with us. Really what we are is a bunch of enthusiasts who'd love to love Ford, but can't."
Contact JEFFREY McCRACKEN at 313-222-8763 or mccracken@freepress.com.
---
from http://www.auto.com/industry/taurus24_20021024.htm
With much thanks to Jeffrey McCracken & the Detroit Free Press
Buford
---
I want to thank you for your generous assistance and the nice write up.
You may find the following helpful.
96-99 SHOs cost $31,000, about $5,000 more than a fully loaded non SHO Tauri. It was a very expensive car (for a Ford, in its day) when purchased new.

We estimate as many as 20% of 96-99 SHO may have had this type of failure, it is neither rare nor caused by abuse and/or neglect. It is a design defect. Among the very small online enthusiast community of less than a 1000 owners we can document almost 130 cam failures, and are aware of hundreds of others who have not contacted us with their story. The problem is pandemic, not rare. The problem can be prevent which costs many thousands of dollars less than a new engine.

WWW.V8SHO.COM has been around since June 1997 as an owner supported car club site, long before we learned about the cam issue. It is NOT devoted to the cam issue. It is devoted to needs and interests of V8SHO owners. It grieves us that our cams have become an issue consuming our time and resources.

RE: "I love this car, just love it and desperately want to believe that Ford as an American carmaker would be honest with us. We're like kids who want to believe their parents have only ever loved each other," said Timothy Wright,

What I hoped to communicate is that we are a group who thought we had a well-managed domestic car company we could believe in. And many of us have had dozens of vehicles during our lives, all Fords. More devastating than too frequent $13,000 (replacement engine cost) premature engine failures is the loss of good faith and confidence we have in Fordís willingness to come clean and take responsibility. The feeling is the same, an abrupt loss of our naÔvetť and painful betrayal. Ford did worse than just make faulty parts. They lied, denied and abused their most adamant supporters. We are not happy how Ford has treated us. I apologize for being so unclear. The behavior is singularly unfathomable given their recent announcement of Ford Performance Group nurturing the enthusiast community. - We ARE the Ford performance sedan enthusiast community, and we wish they would reach out to us.

I would invite all V8 SHO owners who have experienced this problem to contact webmaster@v8sho.com with their story.
Thank you,
Timothy Wright
Decatur IL
---
An excellent article. Plus the editorial comments were left to a minimum. Well written. Awesome job you guys that took part in it.

I hope you get some satisfaction out of this.

David Deines
---
Great article, but it didnít go as far as I wanted it to go. I really wish he had documented the true number of failures, but this is the best thing Iíve seen so far on the problem. I wonder what Fordís response will be and If Jeffrey will follow up on it? Time will tell, but time is about running out on me. I wanted to keep this car forever, but the son of a Ford dealer and a life-long Ford fan is in jeopardy. My first instinct is to sell my car for the payoff and get awayófast. Just on principle. Iíll decide soon.

Ron Fleshman
98 TR
92 OW Ė still running with no problems at 180K
---
Well done!
I will print this out write a letter of concern and post to Ford UK and Ford US.
How about everyone else doing the same. All it would cost is a stamp.
What do you reckon good idea or not?
Rav
98 SHO in the UK.
---
Dear Mr. McCracken,

First thank you for taking time and space to write an article that highlights the issues and concerns many SHO owners have. Second, I concur with the assessment that Ford needs to step up. This is the second SHO I have owned (92, 96) and the third Ford product (89 Sable). They offer great value, safety and performance, but this issue with the cams is most alarming.

Many of us have contacted Ford by phone and email, with the response simply being "There are no known issues and if we have any problems call the 1 800 number". I should not have to go to a third party for some type of fix because a major company refuses to acknowledge an issue with their product.

If this was occurring in a vehicle with higher volume, a fix would already be in place. With less than 20,000 cars, Ford could step up and turn this into a win for them by standing behind their product.

Tim & Frances Henderson
Melbourne, Fl
---
I thought that the cam issue is not unique to the SHO but an issue with all hollow tube cams Ford was putting in the modular engines. I swear I saw something either online or in a mag on the 4.6l and 3.0l modular engines have cam issues too.

Don McKinnon
95 MTX - White/Mocha 88k miles
---
Tim,
The story has stoked the fading embers of quite a few of the list members........I agree with Ravís thought about striking while the flames are brighter and hotter.
One of the "facts" that Jeff cited was the one that absolutely astounded me, frustrated me, pissed me off, and finally has driven me to action. He states: "To date, there has been no recall......with ONLY EIGHT (my emphasis)...complaints filed with NHTSA...itís unlikely there will be." No sh*t. No complaints, no recall.......
WITF are all the complaints that were sent in???????? Maybe they werenít sent in to NHTSA??
Itís time to send 100 complaints to NHTSA !!!! And a copy of same to the UK equivalent.
Chris Kepus
---
---
Contact Information