Home | Mailing List | Specifications | Care and Feeding | Modifications | Vendors | Literature

TSB 97-6-1 Remote Keyless Entry
new 4/10/03
---
Printable View (32 KB)

Article No.
97-6-1

LOCKS - REMOTE KEYLESS ENTRY (RKE) - LOCATION OF RKE FOBS - SERVICE TIP - VEHICLES BUILT AFTER 3/17/97
REMOTE KEYLESS ENTRY (RKE) - LOCATION OF RKE FOBS - SERVICE TIP - VEHICLES BUILT AFTER 3/17/97
PRE DELIVERY - REMOTE KEYLESS ENTRY (RKE) PROCEDURE - VEHICLES BUILT AFTER 3/17/97

Publication Date: MARCH 17, 1997
| | |
| --- | --- |
| FORD: | 1997 TAURUS |
| LINCOLN-MERCURY: | 1997 SABLE |
ISSUE:
Remote Keyless Entry (RKE) fobs are now shipped from assembly plants in plastic attached to the Remote Anti-theft Personality (RAP) module.
ACTION:
Remove the key fobs during the pre-delivery process. Refer to the following text for details.
To determine if a vehicle has remote entry or RKE, refer to the vehicle invoice. If the vehicle is equipped with either of these options, the key fobs and the key code package will be attached to the RAP module. The RAP module is located above the driver's side footwell, directly above the accelerator pedal (Figure 1). Remove the package from the inboard side of the RAP module as part of the pre-delivery inspection process.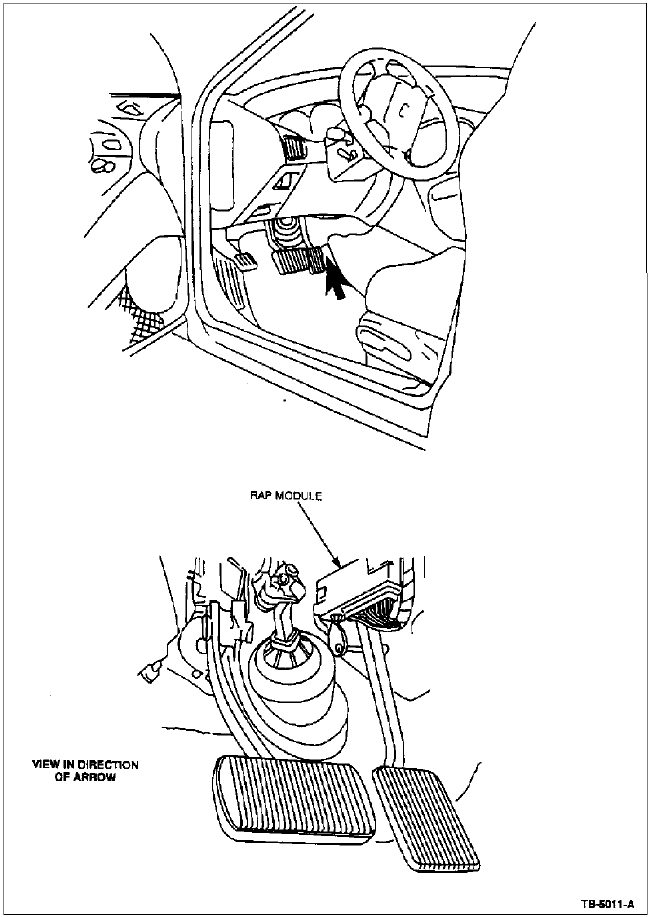 Figure 1 - Article 97-6-1


| | |
| --- | --- |
| NOTE: | THE KEY FOBS ARE PROGRAMMED TO EACH VEHICLE. ALTHOUGH THE FOBS CAN BE REPROGRAMMED, THEY ARE VEHICLE-SPECIFIC FROM THE ASSEMBLY PLANTS. |
OTHER APPLICABLE ARTICLES:
NONE
WARRANTY STATUS:
INFORMATION ONLY
OASIS CODES:
112000, 205000
---
---
Contact Information