Home | Mailing List | Specifications | Care and Feeding | Modifications | Vendors | Literature

TSB 98-13-12 Transaxle Flushing
new 4/10/03
---
Printable View (44 KB)

Article No.
98-13-12

TRANSAXLE - FLUSHING OIL COOLER AND LINES - SERVICE TIP
TRANSMISSION - FLUSHING OIL COOLER AND LINES - SERVICE TIP

Publication Date: JULY 6, 1998
FORD:

1986-98 TAURUS
1991-98 ESCORT

LINCOLN-MERCURY:

1986-98 SABLE
1988-98 CONTINENTAL
1991-98 TRACER

LIGHT TRUCK:

1995-98 WINDSTAR
ISSUE:
Internal automatic transmission/transaxle fluid (ATF) restrictions at the inlet side of the oil cooler may be caused by the accumulation of metal particles and debris, from a previous automatic transmission/transaxle (A/T) failure, on the mesh-type baffle of the oil cooler (Figure 1). A/T oil cooler(s) and line flushing procedures are now available. These procedures should be followed before an overhauled or replacement A/T is installed.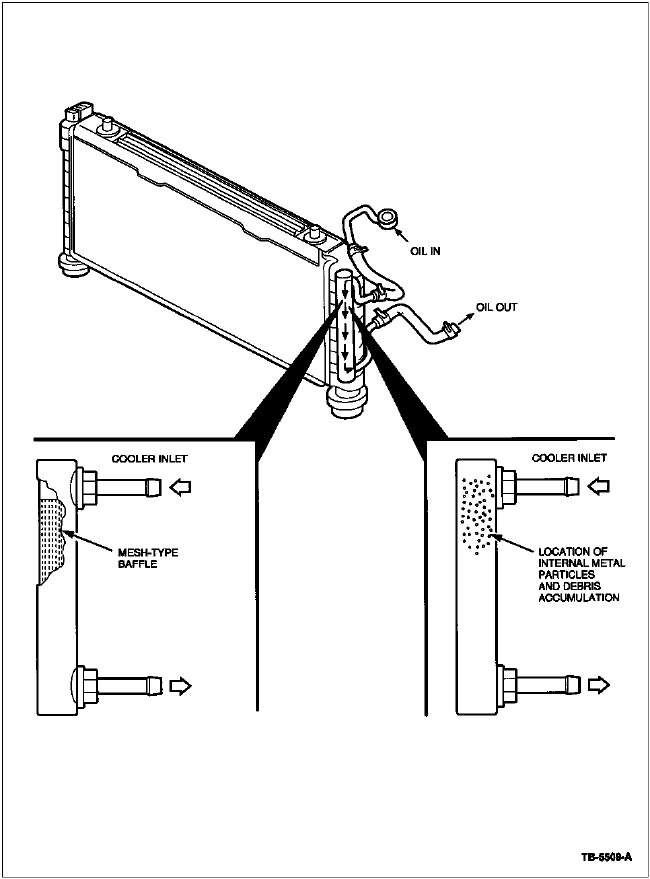 Figure 1 - Article 98-13-12
ACTION:
Refer to the following Service Procedure to properly power flush the oil cooler(s) and lines.
SERVICE PROCEDURE
Before power flushing, be sure to inspect the hoses and clamps. Power flushing MUST begin with back flushing followed by forward flushing, otherwise, the restriction could be further trapped in the internal mesh-type baffle of the cooler and flushing will not be effective or possible.
INSPECTING OIL HOSES AND CLAMPS
Be sure to inspect the lines (hoses/pipes) for cuts/scratches, crimps (pinched), cracks/splits or any other damage before reusing the oil hose. If any problem exists or the hose comes off when applying oil pressure, replace it with a new one.
| | |
| --- | --- |
| NOTE: | ALWAYS USE NEW CLAMPS WHEN REPLACING THE HOSES. |
BACK FLUSHING
Using the Power Flushing Equipment manufacturer's instructions, connect the equipment so that the flushing fluid flows in the opposite direction of normal fluid flow. Refer to the Power Flushing Equipment instructions Page 5 to determine normal fluid flow. See typical example in Figure 2.


Figure 2 - Article 98-13-12


Flush oil cooler/lines until discharge fluid is clean.

| | | |
| --- | --- | --- |
| | CAUTION: | IF THE COOLER CANNOT BE PROPERLY FLUSHED USING RECOMMENDED EQUIPMENT, SEND THE RADIATOR OUT FOR SUBLET CLEANING OR REPLACE. |

| | |
| --- | --- |
| NOTE: | CONFIRM THAT DEBRIS NO LONGER EXISTS IN THE FLUSHED FLUID, THEN BACK FLUSHING IS COMPLETED. |
FORWARD FLUSHING
Connect the power flushing equipment so that the flushing fluid flows in the direction of normal fluid flow. Refer to the Power Flushing Equipment instructions Page 5 to determine fluid flow. See typical example in Figure 3.


Figure 3 - Article 98-13-12


Flush oil/cooler lines until discharge fluid is clean.

| | |
| --- | --- |
| NOTE: | CONFIRM THAT DEBRIS NO LONGER EXISTS IN THE FLUSHED FLUID, THEN FORWARD FLUSHING IS COMPLETED. |
OTHER APPLICABLE ARTICLES:
NONE
WARRANTY STATUS:
INFORMATION ONLY
OASIS CODES:
504000, 507000, 510000
---
---
Contact Information