Home | Mailing List | Specifications | Care and Feeding | Modifications | Vendors | Literature

TSB 98-6-5 AX4N Converter
new 4/10/03
---
Printable View (37 KB)

Article No.
98-6-5

TRANSAXLE - AX4N - TORQUE CONVERTER CLUTCH NOT ENGAGING AND/OR DIAGNOSTIC TROUBLE CODE (DTC) P0741 OR P1744 STORED IN MEMORY

Publication Date: MARCH 30, 1998
| | |
| --- | --- |
| FORD: | 1996-98 TAURUS |
| LINCOLN-MERCURY: | 1996-98 CONTINENTAL, SABLE |
This TSB article is being republished in its entirety to correct the direction of a valve shown in Figure 1.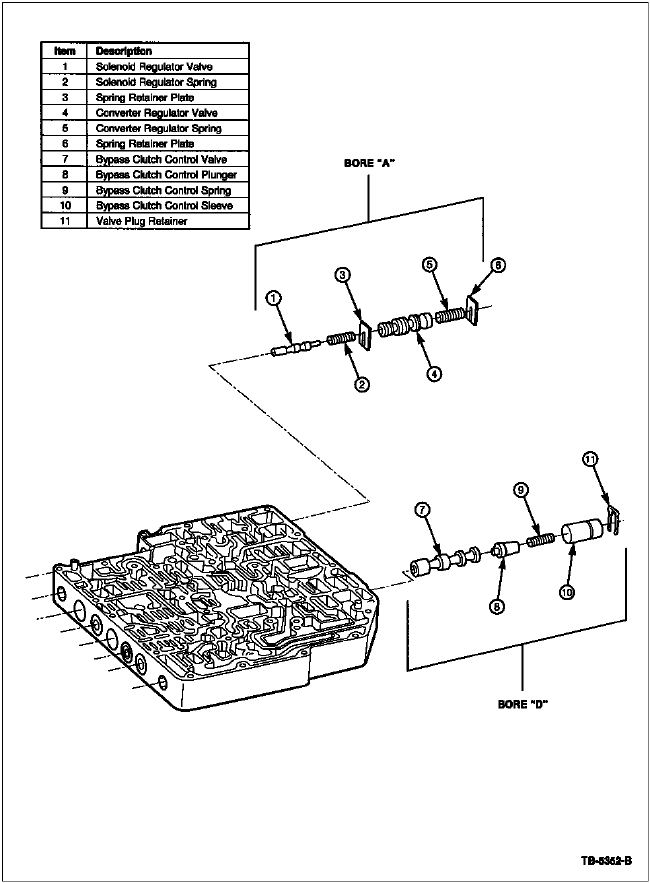 Figure 1 - Article 98-6-5


ISSUE:
Diagnostic Trouble Code (DTC) P0741 or P1744 may be stored in memory. This may be caused by the Powertrain Control Module (PCM) unsuccessfully attempting to engage the torque converter clutch 5 consecutive times. The torque converter clutch may not engage if one or more of the following conditions exist:
Stuck converter regulator valve
Stuck solenoid regulator valve
Stuck bypass clutch control valve
Worn pump shaft or damaged seals
Incorrect Torque Converter Clutch (TCC) solenoid
Incorrect or damaged internal wiring harness
Incorrect gear ratio
ACTION:
Refer to the following Diagnostic Procedure for details.
DIAGNOSTIC PROCEDURE
For DTC P0741 and P1744, perform Pinpoint Test "C" and refer to Diagnostic Routines 240 and 340 in Section 07-01 of the appropriate Taurus/Sable or Continental Service Manual.
Remove the transaxle lower pan and check for excessive debris in the pan.
Remove the main control cover and main control.
Check for pump shaft wear or damaged seals.
Inspect the main control for a stuck converter regulator valve and solenoid regulator valve located in bore "A." Refer to Figure 1.
Inspect the bypass clutch control valve located in bore "D." Refer to Figure 1.
Clean the main control and make sure all valves move freely. Do not sand, stone, or file valves or bores in the main control.
Inspect for the correct TCC solenoid. Refer to TSB 97-13-12 for TCC resistance. TCC resistance should be 0.98-1.6 ohms for 1996-97 Taurus/Sable and 1996 Continental; 13-24 ohms for 1998 Taurus/Sable and 1997-98 Continental.
If the transaxle has been exchanged, refer to TSB 97-23-7 .
To verify the concern has been corrected, the drive cycle must be done at least 5 times. The PCM will not set a torque converter clutch code until it fails to engage 5 consecutive times.
OTHER APPLICABLE ARTICLES:
SUPERSEDES:
97-26-12
WARRANTY STATUS:
INFORMATION ONLY
OASIS CODES:
206000, 501000, 502000, 503000, 504000, 698298
---
---
Contact Information