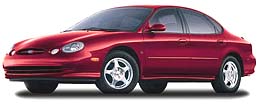 Ford's new Taurus SHO has eliminated the plate indentation from the front end. That's not the only change, of course. The small ovoid grille on the normal Taurus has grown on the SHO (which stands for Super High Output) for better engine cooling and the Ford badge now floats in the middle. Under the bumper, instead of two small air ducts the SHO uses a full-width opening – also to improve engine cooling – along with a front air dam. Why so much more attention to engine cooling? Because, to put it simply, the new Taurus SHO has a V8 for the first time. Assembled by Yamaha, the new powerplant has a 3.4 litre displacement and generates 235 hp at 6100 rpm and 230 lb-ft of torque at 4800 rpm. Like the V6 they provided for the old model, the V8 creates a lusty (yet muted) exhaust note that fits the objectives of this car.
Ford has tweaked more than just the engine of the new mean and nasty Taurus – various suspension components have been significantly upgraded. Mounted on 5-spoke aluminum wheels are P225/55VR16 tires, which are an inch larger than the standard size wheels. Add into the mix thicker stabilizer bars front and rear to control body roll; semi-active struts to provide a firm balance of ride and handling; a ZF rack & pinion steering system to provide better feedback from the road and a more precise feel; and larger 4-wheel disc brakes with anti-lock control. The end result is a car that will cut through bends in the road while returning a relatively smooth ride – until you cross a tar strip or expansion joint. Starting at $32,495 for your basic SHO – which is well-equipped – there are still some options on the list. Chief among them are leather seats, automatic climate control and a power moonroof with still more waiting in the wings.
The seating configuration comes standard as a 5-passenger, rather than six, and makes use of different seats. By way of a comparison to the old model, the more pronounced spoiler adds some style to the back. As for the changes to the basic Taurus running gear, it strikes me as only a subtle improvement to the old SHO.