Home | Mailing List | Specifications | Care and Feeding | Modifications | Vendors | Literature


Thermostat
---
Removal
1. WARNING: NEVER REMOVE THE PRESSURE RELIEF CAP UNDER ANY CONDITIONS WHILE THE ENGINE IS OPERATING. FAILURE TO FOLLOW THESE INSTRUCTIONS COULD RESULT IN DAMAGE TO THE COOLING SYSTEM OR ENGINE AND/OR PERSONAL INJURY. TO AVOID HAVING SCALDING HOT COOLANT OR STEAM BLOW OUT OF THE COOLING SYSTEM OR DEGAS BOTTLE, USE EXTREME CARE WHEN REMOVING THE PRESSURE RELIEF CAP FROM A HOT COOLING SYSTEM OR DEGAS BOTTLE. WAIT UNTIL THE ENGINE HAS COOLED, THEN WRAP A THICK CLOTH AROUND THE PRESSURE RELIEF CAP AND TURN IT SLOWLY UNTIL PRESSURE BEGINS TO RELEASE. STEP BACK WHILE THE PRESSURE IS RELEASED FROM THE COOLING SYSTEM. WHEN CERTAIN ALL PRESSURE HAS BEEN RELEASED, PRESS DOWN ON THE PRESSURE CAP (STILL WITH A CLOTH), TURN AND REMOVE PRESSURE RELIEF CAP.

Drain the engine cooling system so that the engine coolant level is below the water thermostat.
2. Remove battery.
3. Remove power distribution box.
4. Remove battery tray.
5. Disconnect upper radiator hose and position out of the way.
6. Disconnect the lower radiator hose from the water inlet connection.
7. Remove the two retaining bolts. Remove the water inlet connection.
8. Remove the O-ring seal and water thermostat from the water pump. Inspect O-ring for damage and replace if necessary.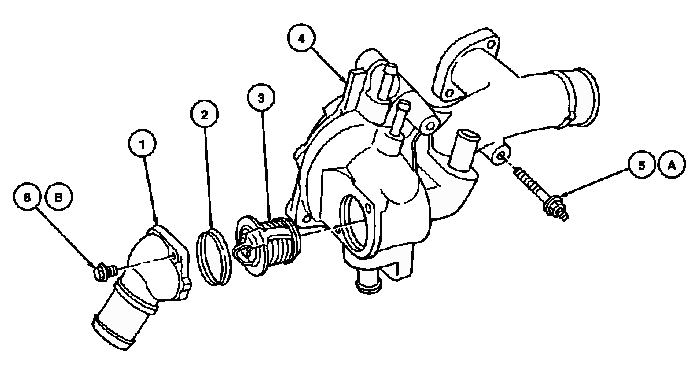 | | | |
| --- | --- | --- |
| Item | Part Number | Description |
| 1 | 8K528 | Water Inlet Connection |
| 2 | -- | O-Ring (Part of 8575) |
| 3 | 8575 | Water Thermostat |
| 4 | 8501 | Water Pump |
| 5 | -- | Stud Bolt |
| 6 | -- | Bolt |
| A | -- | Tighten to 15-22 N-m (11-16 Lb-Ft) |
| B | -- | Tighten to 8-12 N-m (71-106 Lb-In) |
Installation
1. Install the water thermostat, O-rings and water inlet connection as illustrated.
2. Install and alternately tighten the retaining bolts. Tighten bolts to 8-12 N-m (71-106 lb-in).
3. Connect the lower radiator hose to the water inlet connection.
4. Install upper radiator hose. Position spring clamp securely.
5. Install battery tray.
6. Install power distribution box.
7. Install battery.
8. Fill the cooling system with Premium Cooling System Fluid E2FZ-19549-AA or -B in Oregon, F5FZ-19549-CC, in Canada, CXC-8-B, Recycled Coolant, or equivalent that meets Ford specification ESE-M97B44-A in a 50/50 mixture with water.
9. Start the engine and check all hoses and connections for leaks. Allow the engine to warm up so that the water thermostat opens.
10. Stop the engine. Top off degas bottle as required to maintain minimum cold fill level.
---
Contact Information