Home | Mailing List | Specifications | Care and Feeding | Modifications | Vendors | Literature


Checking Valve Clearance
---
The intake and exhaust valves have "shims" that wear over time. These shims are designed to wear instead of the costly camshafts, so their replacement becomes necessary at 100,000 miles on the Generation 3 SHO. This service, done at your local Ford dealership, can cost up to and beyond $800. Luckily, you can buy the shims and rent the tools in a kit from the SHO Shop and save yourself a huge chunk of change. The procedure is as follows.

SPECIAL SERVICE TOOL(S) REQUIRED

| | |
| --- | --- |
| Description | Tool Number |
| Tappet Compressor | T89P-6500-A |
| Tappet Holder | T96P-6500-AH |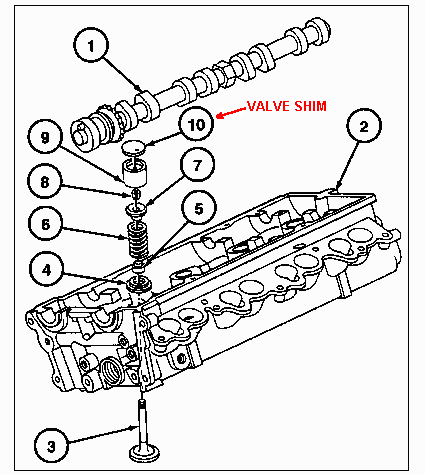 1. Disconnect battery ground cable.
2. Remove valve covers as described in Valvecovers.
3. Note: Camshaft lobes must be directed 90 degrees or more away from valve tappets.
Insert feeler gauge under lobe at 90 degree angle to camshaft.

a. valve clearance intake (cold): 0.15-0.25 mm (0.006-0.010 inch)
b. valve clearance exhaust (cold): 0.25-0.35 mm (0.010-0.014 inch)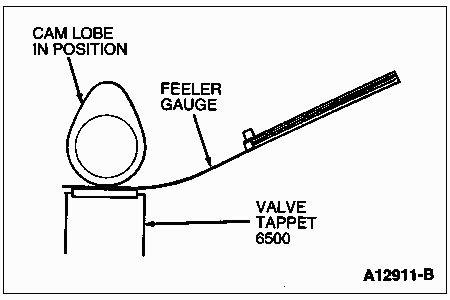 4. To adjust clearance, insert Tappet Compressor T89P-6500-A under camshaft next to lobe and rotate down to depress bucket valve tappet.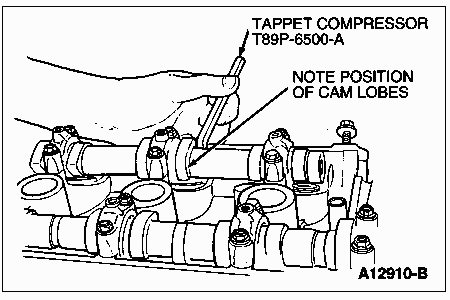 5. Insert Tappet Holder T96P-6500-AH, and remove compressor tool.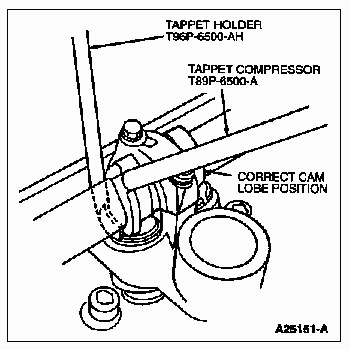 6. WARNING: EYE PROTECTION IS REQUIRED TO BE WORN DURING USE OF COMPRESSED AIR. FAILURE TO WEAR EYE PROTECTION COULD RESULT IN POSSIBLE PERSONAL INJURY.
Direct a jet of compressed air toward hole in face ofvalve adjusting spacer to lift the valve adjusting spacer off of the valve tappet.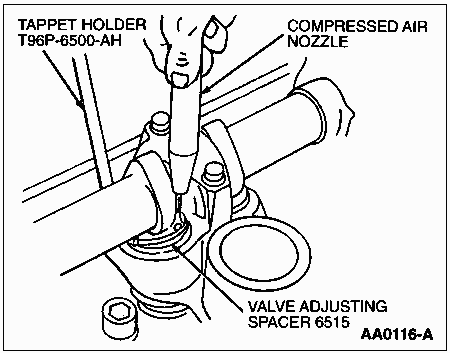 7. Determine size of valve adjusting spacer by numbers on bottom face of valve adjusting spacer or by measuring with a micrometer. Install replacement valve adjusting spacer that will permit specified clearance. Install valve adjusting spacer with numbers down. Make sure valve adjusting spacer is properly seated.
8. Release tappet holder by installing tappet compressor tool.
9. Repeat procedure for each valve by rotating crankshaft as necessary.
10. After all valve clearances are checked and/or adjusted, inspect all valve adjusting spacers to make sure that they are fully seated in their bucket valve tappets.
11. Inspect valve cover gaskets and replace if damaged.
12. Install valve covers and intake manifold as described.
13. Connect battery ground cable.
---
Contact Information